Make Your Own Music and Music Videos with Ditty
Educational songs and music videos are a time-tested way to engage students in learning. From School House Rock to Flocabulary, students love learning from songs. Ditty is a free app for iOS and Android that is designed to let you make your own music and music videos even if you have no musical talent. An email address is needed to create a free account before you can get started.
Note: This app may not be suitable for all classrooms. It is rated ages 9+ due to some content that comes with using popular songs.
Check out My Example About Herbivores

Make Your Own Music
Just type your lyrics, and Ditty sings whatever you type to any of a number of popular songs. You can use an unlimited number of characters, but if your message may get cut off if it exceeds 60 characters. Any words that you type in all CAPS will appear as special characters, making them stand out in your video. Select your song by tapping the down arrow in the top right corner of the screen.
Make Your Own Music Video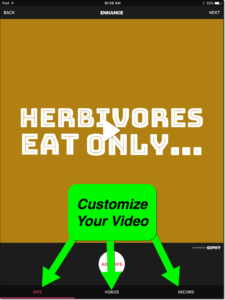 Ditty automatically creates a music video for your song, but you do have some great options to customize the video.
GIFS are automatically generated text-based videos.

VIDEOS allows you to pull in video from your camera roll.

RECORD let's you use your camera to record video to your new song. It's well designed to let you record a series of clips as you listed to your song.
Saving and Sharing Your Music
You videos are saved locally within the Ditty app. You can also share them with other apps, or save them to your camera roll.
Ideas for Your Classroom
My example uses Ditty to help students with vocabulary. You really have a wide range of options from rhyming for memorization, to wordplay and figurative language. Flocabulary has some great ideas to provide inspiration for your lessons. These lesson plans are aimed at using Flocabulary (another great tool), but can be adapted to Ditty.
Download the App For Free


Don't Miss a Pick - Follow Us