News for Kids – Customize the Reading Level, Assign Articles, and More
Finding news for kids can be time consuming. Finding one article that addresses the wide range of reading levels in most classrooms is nearly impossible. Newsela provides teachers with an easy way to find and assign current event articles. It provides all students with the opportunity to read the same article, but at their own reading level.
Assign Articles with One Click
You can browse the latest news article, or browse by topic. You can also narrow your choices by filtering for grade level, reading skills (as assessed by quiz questions), and language. A couple of helpful icons to be familiar with can help when browsing for articles: a lightbulb indicates that the article features a quiz, hovering over it will reveal the standard(s) assessed; a green circle indicates that a translated version of an article is available. Once you find an article, you just click "assign" at the top left of the page and select a class.
Change the Reading Level of an Article
Every article is written at five reading levels (grades 2-12). This provides teachers with a way to have entire classes read the same article, yet differentiate reading levels. Newsela sets the default reading level based on the grade level of your class, but students can easily  set their own reading level.
---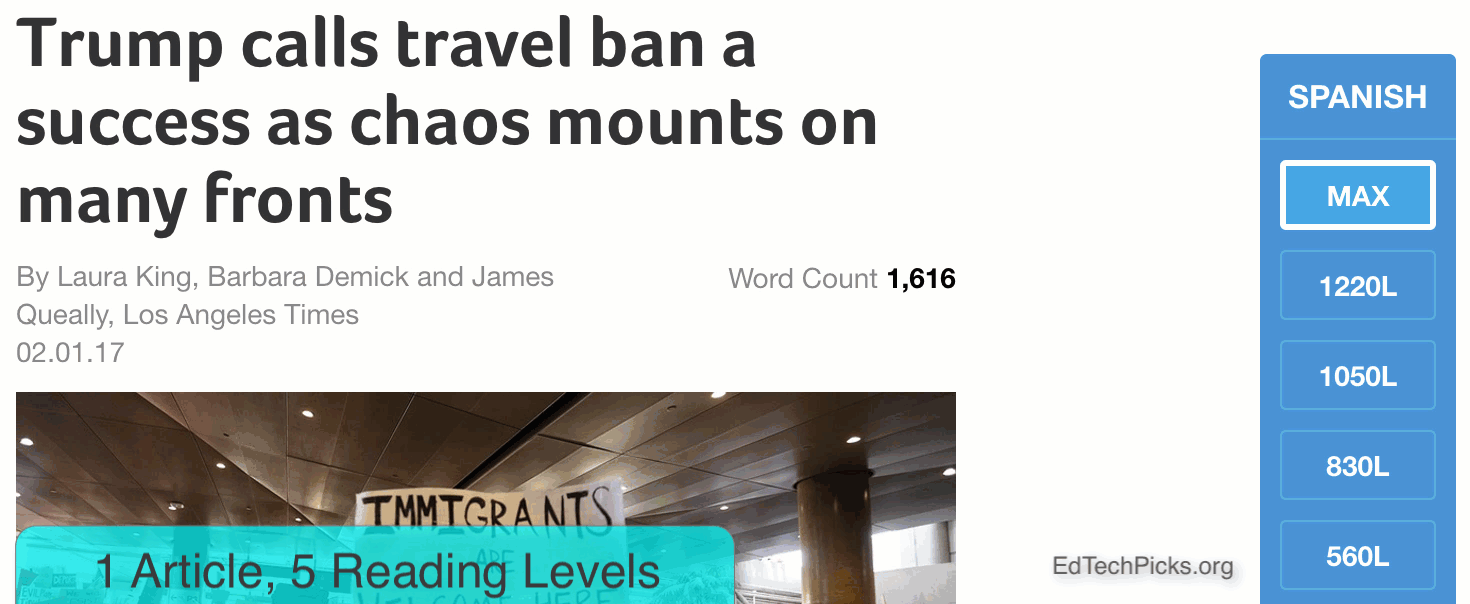 ---
Assess Reading Skills with Quizzes
Most articles come with quiz questions that assess one or more reading skills:
What the Text Says
Central Idea
People, Events & Ideas
Word Meaning & Choice
Text Structure
Point of View/Purpose
Multimedia
Arguments & Claims
All students can take the quizzes and get immediate feedback, but a Pro account is required for teachers to see student progress. Teachers do have the ability to print quizzes and answer keys.
Add Annotations
Students and teachers can highlight articles and add annotations in the margins. Pro users can share annotations with their students, and view student annotations.

Keep it Focussed with Text Sets
Text sets are collections of articles that share a common theme or topic. Teachers can create their own text sets, or search text sets created by other teachers or Newsela. You can customize text sets by copying them and adding or deleting articles.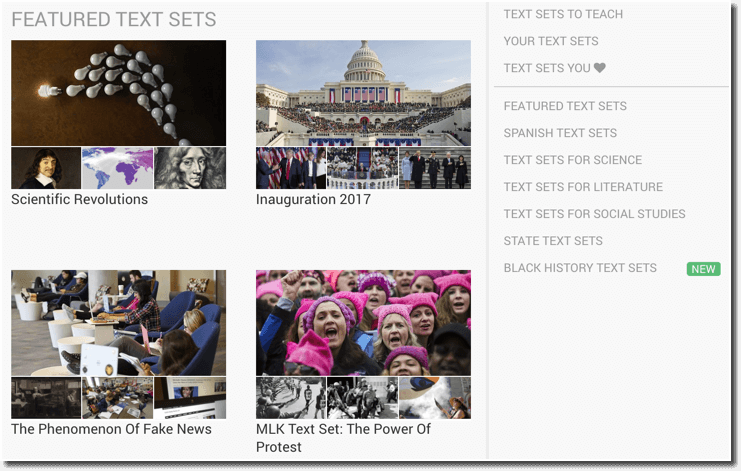 Apply Bloom's Taxonomy with Current Events
Newsela provides a number of ideas and resources to help teachers create better lessons. I came across a post on their blog that outlined ways to apply Bloom's Taxonomy with Newsela. Here are some examples from that post.
Remember
Article: Old Elementary School Beginning New Life as College of Rock and Roll
Question: Based on the article, which of the following sentences is true?
Understand
Article: Woman Is First African-American Named Top Dancer in Ballet Group
Question: How is Misty different from other top dancers in her dance group?
Apply
Article: Shrinking Colorado River Is a Growing Concern for Yuma Farmers
Question: How might Arizona use the map to renegotiate its water rights?
Analyze
Article: The Frog That Jump-Started Samuel Clemens' Career
Question: What is the connection between the introduction and the last two paragraphs in the article?
Evaluate
Article: Opinion: Cargo Drones Are a Gadget That Can Work for Those Who Need It
Question: Which sentence from the article directly supports the argument above?
Create
Article: PETA Sues to Give Monkey the Copyright of Selfie Photos
Question: Imagine that you worked for PETA. Write a speech explaining why the monkey should own the rights to the photos.
*Embedding writing prompts in articles requires a Pro account.
Newsela Pro
Pro users can view individual student progress, add instructions to assigned articles, assess comprehension with writing prompts, and more. Compare all features of Newsela and Newsela Pro. You have to contact Newsela to get a quote for pro accounts, but I was able to get a rough idea from a couple of websites ranging from $18 per student to $4,000-$7,000 per school.
Getting Started
Getting started is easy. After creating your free account and your first class, you'll be provided with a class link and class code which students can use to register themselves. No typing rosters required! Google Classroom users simply import their classrooms into Newsela.
Check out Newsela's Quick Start Guides
iPad Classroom?
Neswela is available on iOS.
Don't Miss a Pick - Follow Us