OpenMultiple Tabs with One URL and One Click – URL Extender
urlext.net
It's easy to save and share links, but I prefer the idea of sharing one URL that will open multiple links with one click.  URL Extender allows me to do exactly that.  I previously shared BridgeURL as a way to share multiple links with one URL. While Bridge URL makes a playlist of your links, URL Extender opens each link in a separate tab.

How Does This Make My Life Easier?
I'm a fan of browser tabs. Anyone who has seen me working knows that I rarely have any less than 6-10 browser tabs open at a time. During presentations I have to make a conscious effort to close them out, I have even turned to tools like One Tab to help, but opening individual links can be time consuming when your in front of a class or audience.  Now I can take up to 10 links, add them to URL Extender, and open them all with one click in the middle of a presentation.
Create Your Extended URL in 3 Steps
Go to urlext.net. No account is required, in fact you it's not even an option.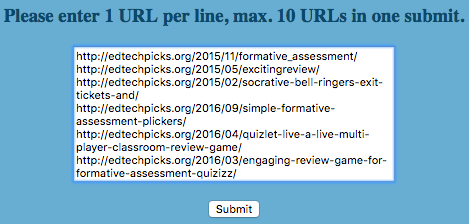 Paste each URL on a separate line (up to 10 URLS).
Click "Submit."
Copy and share your URL.
Give it a try
Click on this link http://urlext.net/88JHq0 to open 10 posts about formative assessment.
NOTE: You will need to disable the popup blocker in your browser in order for Extended URL to work. You can also allow popups for just URL Extender. Here's a tutorial to show you how.
Don't Miss a Pick - Follow Us