Survey Students & Assign Their Top Preferences with Poll & Match
Poll and Match is more than an online survey. It provides teachers with an easy way to let students rank their preferences from a list of choices, and then assign students to one of their top choices. For example, I wanted my students to make infographics of key concepts as part of a class review project.  I wanted every student to pick a unique topic so that all topics would be covered. I would normally have them pick a topic on a first-come first-served basis, but this really doesn't provide a solid way to ensure that each student gets assigned to one of their top preferences.  Poll & Match provided a better solution that was easy to use, effective, and free.
Create a Survey & Share it With Your Students
Make a free account and click Create a Survey to get started. Enter a title and some brief instructions, then start adding your survey choices. Share your survey's link with your students and ask them to order their preferences with their first choice at the top.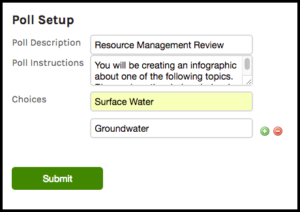 View Survey Results
Survey results are displayed in a heat map with dark colors representing the most replies.  Choices appear in order of popularity, with the most popular at the top. You can also view individual students' responses in table format.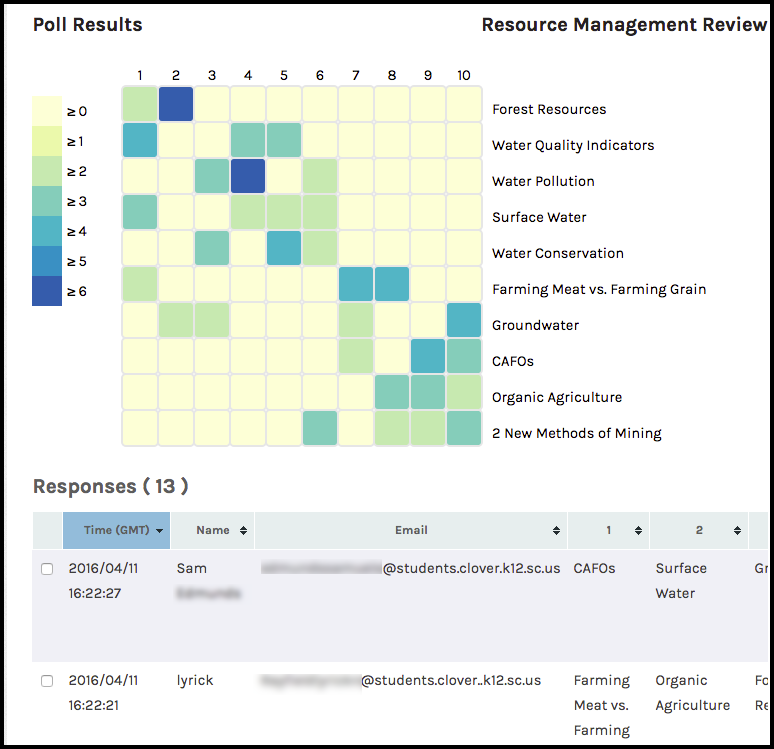 Assign Choices to Students
Clicking Match Poll displays each choice with a list of students in order of their indicated preference. Enter the limit (number of students) that can be assigned to each topic.  I had 14 students choosing between 7 choices.  Indicating a limit of 2 for each choice created student teams based on their preference of choice.  This is a great way to create student groups to ensure that students are choosing groups based on topic, and not who they want to work with.  Clicking Make Match will assign students to a topic that is as high on their preference list as possible.  Teachers can reorder students under each topic to determine the outcome of tie-breakers prior to making matches.  The results of the match are displayed in a table by topic.
PLACE HOLDER FOR FEATURED IMAGE
Poll & Match provides an easy way to assign students to a choice based on their preferences.  It's also a great way to create groups that are based on students' preference of topic and not based on which of their friends they want to work with.
How will you use Poll & Match? Share your ideas in the comments below.
Don't Miss a Pick - Follow Us