Riddle is an easy-to-use, online quiz maker.  While it seems like it is designed mainly for creating generating marketing leads through interactive social content, it offers a number of features that make it a great way to create online quizzes for the classroom.
Note: Riddle was free when this was originally written. They have a free 14 day trial with prices starting at $3/month.
The Pop Quiz function seems like the most useful format for the classroom, but you can also create opinion polls, surveys, and interactive lists.  Check out some of the features in the quiz above.  Click here to access the quiz if it isn't displaying in your browser.
Add Images
You can add images to any question.  Using the search
option will perform a Google Image search, the Getty button allows you to search Getty Images, Stock brings you to a small collection of stock images offered by Riddle, or you can upload your own images.
Add YouTube Videos
You can embed YouTube videos into your quizzes.  In addition to searching and selecting a video within the quiz editor, I was also able to choose the video's start time. The answer to my question was stated at the beginning of the video I wanted to use.  I was able to crop that portion of the video out with one click.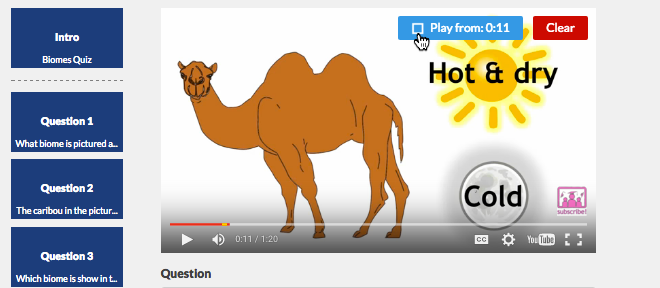 Add Articles
The most unique feature of Riddle is the way they allow you to add articles to your quiz.  Using the article button to add a link pulls an image from your article along with the title and description.  Your article's information show up in a visually appealing way with a "Read article" link at the top of your question. Clicking the link opens the article in a new tab.
Student Feedback
Questions are graded and feedback is provided as soon as an answer choice is clicked.  One of my favorite features is the ability to provide a "correct answer explanation."  The explanation is shown along with the correct answer after students respond to the question.
Instructor Feedback
You can add a form at the beginning of the quiz to collect the names of students who complete sign in.  The data from this form will be emailed to you, otherwise the feedback you receive is fairly limited.  Only being able to get feedback by question, rather than student, limits the usefulness of Riddle as an assessment tool.  However, the ease of creating visually appealing quizzes that can include a variety of media still make this a great EdTech tool. It's perfect for practice quizzes, or getting a quick view of understanding at the whole-class level.
Using Riddle in the Classroom
The Riddle Blog has a page dedicated to Using Riddle in the Classroom.  It includes some great ideas, and shares some great examples.  Check out these creative uses of Riddle:
How will you use Riddle in your classroom?  Share your ideas in the comments below.
Don't Miss a Pick - Follow Us