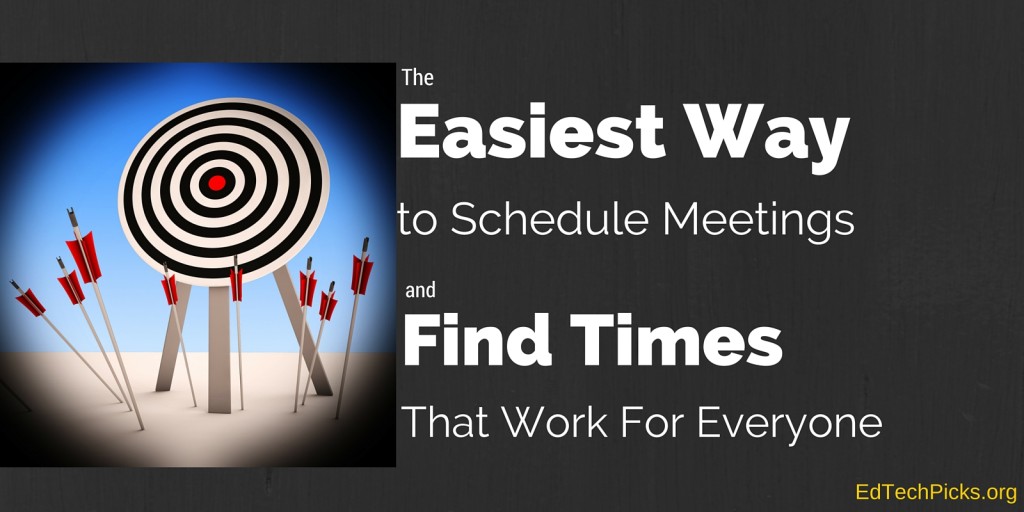 These days, scheduling even simple meetings can be a headache. Finding times that work for everyone can seem like an impossible task.  NeedToMeet has made it easy for teachers to schedule meetings at times that are most convenient for all attendees.  NeedToMeet is a free online meeting scheduler.  It features basic click-through forms and instructions that make it easy to schedule meetings without back-and-forth email or needing to guess which times are best for everyone.  It's great for scheduling collaboration with colleagues, extra-curricular and club meetings, study groups, etc.
No account is required, but registering for a free account makes it easier to access your schedules. Other benefits of a free account include:
Access via iOs, Android, and Outlook
"My Meetings" page for quick access to all of your meetings
Add meetings directly to your calendar
Export as an Excel or CSV file
Detailed response table within email
Click "Schedule a Meeting Now" and you'll only have 3 more easy steps to complete.  The rest of the work is now in the hands of your attendees.

Enter Meeting Details
Start by filling in your meeting details: title, location durations, etc. You can enter your email address if you'd like to receive updates as people respond.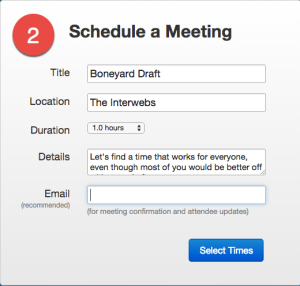 Select Dates and Times
Next you'll click available times for your meetings on a calendar grid. Blocks of time will be selected in increments matching the duration you entered on the previous screen. Hovering over time slots you've selected brings up an eraser in case you've made a mistake or changed your mind.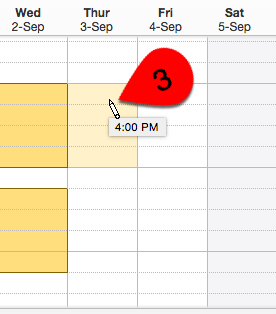 Invite Attendees
At this point, you can enter email addresses to send invitations directly from NeedToMeet (handy if you will be using this site to schedule meetings with the same people regularly), or you can copy an attendee link that you can share with your meeting participants.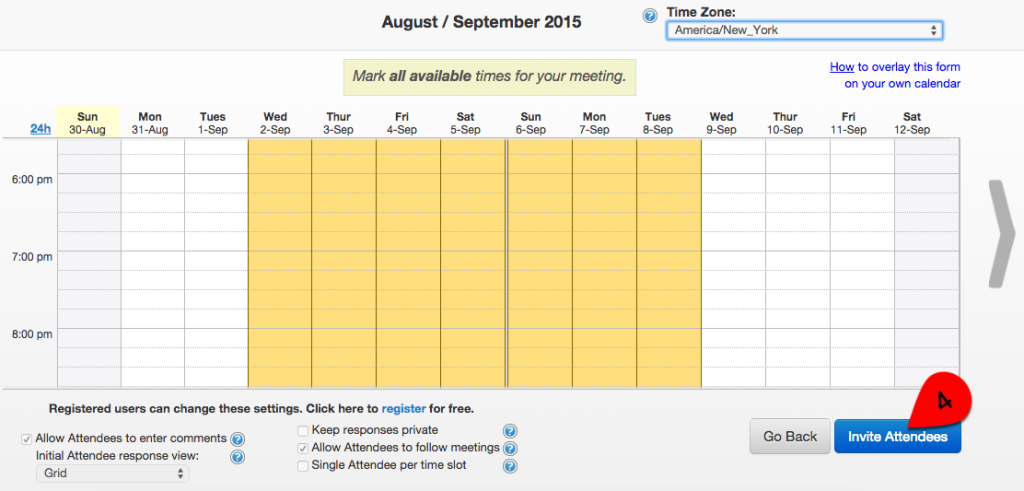 Attendees Select Times They Can Meet
As the organizer of the meeting, all potential times you indicated on the form will be selected as available times for you. You can edit these through the attendee link. Meeting attendees will follow the link you share with them and indicate times they are available by clicking on a vertical grid or calendar view.

View Availability and Schedule Your Meeting
Tracking responses is a breeze.  You may elect to receive email updates any time an attendee responds. You can view results or make changes at any time by using the admin link that is provided when you set up your meeting.  I suggest giving attendees a deadline to reply by.

Responses can be viewed by date or sorted by maximum availability (totals shown in the bottom row). Scheduling a meeting at the most mutually convenient time has never been easier.
Need an Easy Way to Schedule Parent-Teacher Conferences?
If you're looking for something to simply allow people to sign-up for appointments, like parent conferences, check out SignUpGenius.
Don't Miss a Pick - Follow Us