Gamify Your Classroom with Badges
ClassBadges


www.ClassBadges.com
Awarding students badges is a great way to recognize them for their achievements. It's perfect for mastery or standards-based learning. Whether you want to award a badge for mastering a key learning objective, or recognize a student of the week, award a badge for students who go above and beyond expectations, ClassBadges Makes it easy. The ClassBadges Blog even provides an example of a school-wide initiative of awarding badges to track acts of kindness.
Teachers can easily gamify Problem-Based-Learning and Challenged-Based-Learning by awarding students badges for accomplishing tasks. Badges for nearly all subject areas are available in the Badge Catalog.  Teachers can customize badges to fit their curriculum. They can also make their own custom badges with the Badge Creation Wizard which allows teachers to choose from a wide selection of stock badge art, or upload their own images.
Recognize Achievement & Motivate Students
Students are provided with a private account where they can view their badges. The "Badge View" tab visually displays a student's badges. Hovering over a badge flips it over to reveal when it was earned and who awarded it to the student. More detail are available by clicking on the badge.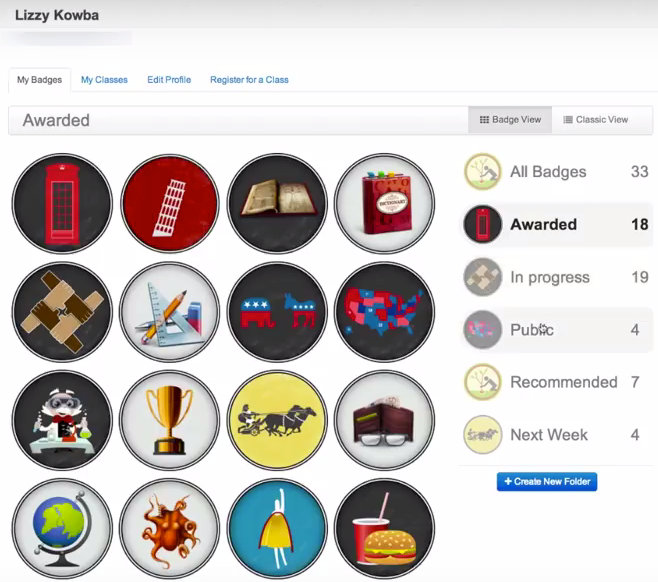 Clicking "In Progress" allows students to see the badges that they have yet to earn. Students can also create their own folders to organize badges in any way they choose. Students can also drag badges that they want to embed on a website, digital portfolio, or blog into the public folder.  The video below provides a great overview of student profiles.
How will you use badges in the classroom?
Share your thoughts in the comments below. 
Don't Miss a Pick - Follow Us